Spring is almost upon us and designers and retailers are unveiling their new spring collections now. With introductory sales and deals on new arrivals, this is the perfect time to shop ahead of the start of the spring season and get prepared.
I have gotten a few emails and comments on the blog asking for more clothing above a size 24 to be featured. Being a size 26/28 myself, I know how hard it is to find clothing when many retailers and designers won't go past a 24 and some that do, their garments are cut small and are ill-fitting. So this fashion spotlight is for you, my fellow plus size fashionistas above a size 24.
And if you would like to know more about those designers and retailers that carry above a size 24, I wrote a great fashion piece in the October 2013 issue of PLUS Model Magazine titled Fashion Beyond A Size 24. You can read that article here. So ladies, I got your back. I will be featuring more items that are available above a size 24 on the blog going forward.
Spring 2014 is all about florals, stripes, abstract/geometric prints, stripes and pastels. Who says big girls can't wear prints? So not true! Even if you don't do trends, believe me, you will find something this season that you will love. The great thing about these Spring 2014 trends is that they could probably work after spring is over. At the end of the day, you create your own trends so if you decide to keep wearing these trends after spring, go for it!
Here's 10 fabulous dresses that are new for spring and all of them are available in sizes above a 24, some even in a 5X, 40! So happy shopping – and always remember, don't let the price dissuade you! There are always coupons and deals to be had so you don't ever have to pay full price.
#1: Printed Wrap Dress from Pink Clove, $33, Sizes 16 – 26/28 (Many of Pink Clove's items go up to a 30/32)
#2: Erin Maxi Dress from SWAK Designs, $80, Sizes 1X – 6X (Take 25% off with coupon code PMM2514)
#3: Floral Chiffon Faux Wrap Dress from Torrid, $64.50, currently on sale for $48, Sizes 1 – 5
#4: Geo Print Wrap Dress from Simply Be, $75, sizes 8 – 28 (Get 20% off your first order with code 6020)
#5: Sonata Dress from Catherines, $78 – $88, Sizes 0X – 5X (Take 30% off with code HEARTCA)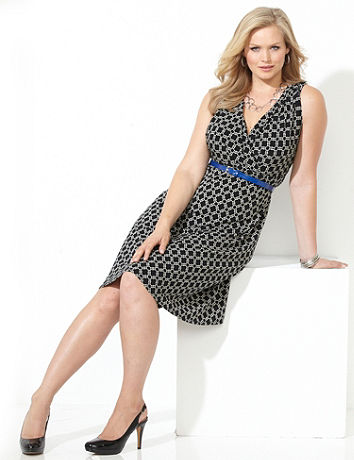 #6: Embellished Florals Poplin Dress from eShakti, $70, Sizes 0 – 36W or customized to your measurements for an additional $7.50 (register an account and they will send you a $30 gift coupon to use towards your order)
#7: Classic Boatneck Dress from Jessica London, $30-$45, Sizes 12-40 (Sign up for their emails and get a 40% off coupon)
#8: Swirl Print Maxi Dress from Avenue, $55, Sizes 14/16 – 30/32 (Buy 1 item, get 50% off your second PLUS get $25 off your purchase of $100 or more with code AV141225)
#9: Jasmine Dress from Igigi, $122, Sizes 12 – 30/32
#10: Flirty Flounce Wrap Dress from Kiyonna, $98, Sizes 0X – 5X (Take an extra 15% off with code SCORE15)
What are some of your favorite designers and retailers that offer past a size 24? Please leave us a comment below and let us know. And stay tuned for more fashion and designer/retailer spotlights on those who offer above a size 24.